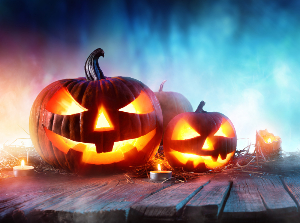 Halloween is a treasured holiday in the United States, and you can make the most of your celebration this year with a few clever tricks. If you're thinking about ways to decorate your home or prepare for a party this Halloween, check out these tips and get creative!
Top DIY Crafts and Snacks
Easy do-it-yourself crafts and snacks are a great addition to any Halloween party, children's party, or just a little extra fun for trick-or-treating. Your kids will love making paper pumpkins to hang throughout the house as decorations, but you could also hang daisy-chains of bat cutouts on your mantle and windowsills. Have your kids collect freshly fallen leaves for table centerpieces or autumn-themed crafts and decorations.
If you're looking for cool snack ideas, you'll only be limited by your imagination. Turn crispy rice treats into happy little ghosts, make cake pop "eyeballs," or bake a spider cake.
Fun Activities to Do With Kids
Kids love Halloween, but there are some ways to pump up the fun and make this year really special. It's a great time for parties and kids to meet up with their friends for trick-or-treating. For kids with birthdays near Halloween, a costume birthday party can be a fun way to spend the special day. Try a beanbag toss with jack-o'-lanterns or a more traditional Halloween party activity like bobbing for apples.
Carving pumpkins is an exciting Halloween activity, but handling knives with littles is never fun. Here are some options to keep your kids happy no matter their age.
Make mummy candy cans. Wash old soda cans and wrap them in gauze – add some googly eyes – then fill with lollipops and candy bars. These are easy for kids to do and a great thing to give to special friends during trick or treating.
Create a haunted terrarium. Grab a large clear jar from a thrift store or craft store, and fill it with bits of terrarium moss, doll fences, and tiny Halloween toys. Kids can change it up every day. If you're feeling ambitious, take a pic of each one, save it for next year and use them to create a Halloween countdown calendar.
Craft a countdown calendar. Kids love a countdown, but most people don't use one until the Christmas season. Recycle an old frame and create flip-able numbers for an advent-like Halloween calendar. Cork board behind the frame makes this extra easy and reusable. Here are some step-by-step instructions.
Top House Halloween Decoration Tips
Halloween décor isn't something you miss as you stroll through stores this year. Grocery stores, home improvement stores, and craft stores abound with creepy ideas, but the simplest ones are often the best. Check out these original decorating ideas that kids are sure to love helping with as well.
Spook guests with peepers. Few things are as quietly creepy as the feeling of being watched. It doesn't take much to create that feeling in your home or on your front porch. Buy googly eyes of varying sizes and stick them in dark corners or crevices around the house. Have at least one set somewhere near the floor to surprise guests. This option is great for younger children who might be frightened by some of the more ghoulish and gory Halloween themes. It's cheap, too; googly eyes are often a dollar store item.
Create outdoor flying ghosts. Balloons, markers, and gauze are the main tools you need to liven up your front yard. These ghosts can be made on a dime, the kids can help, and you don't have to worry about storing them after the season. Here's how to do it.
Make an indoor bonfire. But don't really light up anything. Find inexpensive faux-pumpkins precut with decorations, add tea lights inside, and then pile them on top of each other for a fire-pit look. Clean up some rocks or branches to surround your "fire," and you've got a bonfire the kids and neighbors will love. Depending on the weather, you can even create this outside.

You can find plenty of inspiration in stores, but sometimes the most fun is what you can do with a little imagination.
Top Trick-or-Treating Safety Tips
For most kids, trick-or-treating is the highlight of Halloween. They get to dress up, hang out with their friends, and collect candy all evening. Their excitement means they sometimes forget the basics of safety, so take some time to go over the rules and how to be aware of their surroundings.
If your kids are old enough to trick or treat on their own, create a buddy system. With large groups of kids, it can sometimes be easy to lose track of one. Attach reflective tape to their shoes and costumes to make them more visible to passing cars. Most drivers know to use extra caution while driving on Halloween, but not everyone does.
Make sure your kids' costumes are short enough that they won't trip walking up stairs to collect candy. Whenever possible, trade masks for face paint. Masks can make it hard for your child to see and may obstruct his or her peripheral vision. Your children should also carry flashlights with them throughout the evening.
Create Your Own Costumes
As most parents know, Halloween costume ideas start at the end of last Halloween and don't end until the day of Halloween. Costume choices abound – from Amazon's character themed customer to Target's food ones. Why not extend the season and save some change by hitting the thrift stores. Your kids can create a costume from what they find there. Sometimes, it's more fun to create something than to be something. Turn up the Macklemore and pop some tags for the most original costuming – and your kids won't have to worry about looking just like the other kid dressed as a pizza slice from Target.
Some fun ideas include:
Formal clothes and some zombie makeup. Turning something formal into something scary only takes a few tears and some fake blood. A suit will keep kids warm, and they can be anything from Beetlejuice to a zombie bridegroom. A wedding dress is another common thrift store find, and they are often cheaper than a traditional customer (and a lot higher quality). A zombie bride is a great way to be both fancy and scary.
Old-fashioned clothes. Another way to keep kids warm and happy on October 31st is making a costume from old-fashion clothes. The ideas here are endless – grandmas and grandpas, 50s pinups and zoot suits, or country chic. Decades of bad fashion are great sparks for the imagination on Halloween.
Industrial gear. Orange jumpsuits make great hazmat suits – just add some protective eye gear. Work overalls with a yellow shirt is an easy minion. Brown work coveralls can create all manner of construction work costumes.
Button down shirts. You may not even need a thrift store for this one. A blue oxford that is half buttoned to reveal a superman tee underneath is a perfect Clark Kent costume – just add a loose tie and glasses. Same shirt, coupled with a wig, a fake beard, and a paintbrush create a perfect Bob Ross. If there's a flannel sitting in the closet, add some fake hair under the sleeves and some werewolf makeup, then howl at the moon!

Make costume creation a family-event rather than a dreaded trip of shopping when you harness your create juices and some thrift store help.
If you have pets, don't forget that they can dress up, too! Find inspiration for the paw-fect pet costumes from websites like Chewy or even check in stores like PetSmart or Target while you're out shopping. Some of the most popular costumes for furry friends include pumpkins, lions, hotdogs, and bumblebees. If your pet hates dressing up, maybe opt to get them cute Halloween-themed treats or toys instead.
Halloween for the Win
When you spend time crafting DIY décor, doing hands-on activities, and creating homemade costumes during the season, you take home great memories along with buckets of candy. 
Resources: