Your First Federal debit card is the easiest, most flexible way to make purchases and manage your account from almost anywhere. Because your debit card is a fast connection to your checking account, we've packed it full of benefits and security.
Earn Rewards with your Debit Card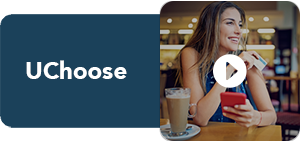 Earning rewards with your debit card is easy with our uChoose Rewards program.1 You can earn points on everyday purchases and can earn even more points with featured, online specials. Redeem your points for merchandise, travel, gift cards, and cash back! Register your card, track of your rewards, link to PayPal, check for online specials, and redeem points at www.uchooserewards.com.
Register Your Card for uChoose Rewards
Have questions about your rewards? Call the uChoose Customer Rewards Center at 1-855-634-1602.
Two-Way Fraud Text Alerts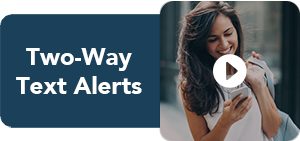 With interactive fraud alerts, if our monitoring system detects suspicious activity on your debit card, we'll send you a text message with details about the suspicious transaction. Then, you can reply to the text with a confirm or deny. All debit cards come equipped with this feature, when we have your cell phone number connected to your debit card. Not sure if you're set up for two-way text alerts? Give Customer Care a call at 877-499-0572. 
Manage Your Card with Your Phone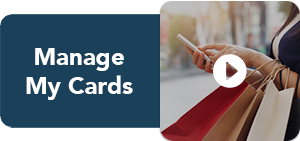 Now you can have control over your debit card from the convenience of your cell phone. Use our Mobile Banking app to turn your card off if you misplace it, and back on when you find it. You can also control where the card can be used to avoid out-of-state/country fraud. It even lets you set a budget for the card and stops over-budget purchases. To get started, download our Mobile Banking app. Once you're logged in, click on "Manage My Cards". 
Touchless Payments with Digital Wallets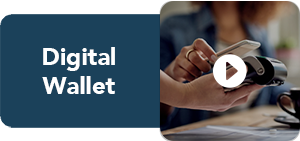 Digital wallets are a simple and safe way to use your smartphone to make purchases with your debit card at participating locations. Just load your First Federal debit card in the digital wallet on your phone, and you're on your way to an easy way to pay. Using a digital wallet helps keep your payment information secure by utilizing an encryption for each transaction. 
Nationwide ATM Access 
First Federal customers have access to the Allpoint Network of surcharge-free ATMs.  Over 55,000 Allpoint ATMs worldwide, including the United States, Mexico, Canada, Puerto Rico, the United Kingdom, and Australia, are surcharge-free for First Federal customers! Find Allpoint ATMs on the locator search on their website www.allpointnetwork.com (Opens in a new Window).