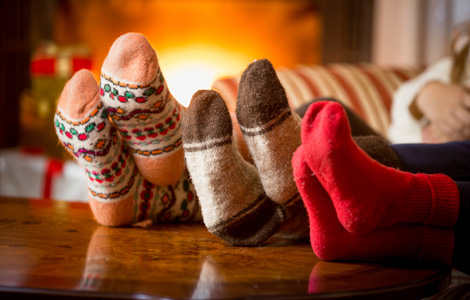 The holidays are the busiest shopping season of the year. So it makes sense that this is also the time of year when fraud and scams reach their peak. Here are six tips to avoid being a victim.
Be suspicious of text messages, social media messages, emails or phone calls that ask you to give any personal or account information. Sometimes these messages are made to sound like there is an emergency. They'll say your account has been closed or your funds aren't available until you give us this information. By using fear, this scam can make otherwise smart people make bad decisions. First Federal will never ask you to provide sensitive information this way.
Review your account transactions regularly.
Some thieves test card numbers by purchasing low-dollar amount items at gas stations. Once they see a number is valid, they go to a large retailer and make big purchases until the card stops working. Calling your local branch and setting up text alerts is an easy way to monitor your account. 
Another great tool is our Two-Way Text Alerts. If we detect suspicious activity on your debit card, we'll send you a text message and ask you to verify the transaction. Not sure if you're signed up? Call Customer Care at 877-499-0572 to learn more.
Use our app to manage your debit card. Our debit card management features let you turn your debit card off and on and set limits by location, dollar amount, and merchant type. The First Federal Mobile Banking app is available in the iTunes store and in Google Play.

Shred documents that contain sensitive information. Throwing these documents away without shredding means anyone who has access to your trash can has access to that information. Don't get dumpster divers the chance. Even better, sign up for electronic statements and skip the mail altogether.

Be cautious online. Don't ever fill out forms on a website that doesn't have a security certificate (https instead of http, and you should see a padlock icon) and only use reputable online sites to make purchases. Use anti-virus software that monitors your online activity as well as checks your offline content.

Know your friends on social media. Don't add someone as a friend or follower on social media sites unless you actually know the person. Many scams and frauds begin with a simple friend invite. By adding that person, you're giving them all of the personal information you make available on that site and giving them insight into who you are. Some scammers spend months or even years developing "friendships" with someone through social media before they begin trying to take advantage of them.

As always, use common sense and be cautious. If something sounds too good to be true, it probably is. If you think you're the target of fraudulent activity and have questions, call our Customer Service number and they'll be happy to help. Click here to find your local Customer Service number.