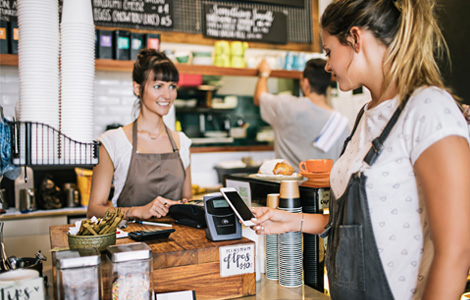 To be competitive in a challenging marketspace, it is important for small businesses to determine what payment options to offer to their customers. Businesses should also regularly review their payment methods to ensure they are keeping up with their customers' preferences, as these tend to change over time.
Don't accept cash only
For small businesses, operating on a cash-only basis may be tempting because it is both the simplest and cheapest option: it doesn't require applying to a bank to process credit cards, paying for the equipment to use the cards or paying the banks a fee for each transaction.
Despite the benefits, you risk losing customers if you accept only cash. According to a May 2014 article written by Allison Ross for Bankrate.com, approximately nine percent of Americans don't carry any cash at all and "more than two-thirds of consumers carry less than $50 on a regular basis." Furthermore, accepting only cash may make your business seem antiquated and, even if it doesn't deter customers from purchasing your products, it will make the average transaction lower and longer.
"The average spend per transaction is 120% higher when customers pay with credit cards compared to cash," writes Maggie Overfelt in a November 2013 article for CNBC.com. "If your customers are limited to a purchase equal to what they have in their wallets, they won't buy as much from you. If you want larger transactions, you have to open up your payment options."
Credit and debit
Though accepting more payment options comes with additional costs, the benefits are often worth it. "Various studies show that when people are given more payment options (beyond cash); they are more likely to make impulse purchases, join loyalty program, and spend more per purchase—and that can only help your business to grow," writes TJ McCue, contributor for Forbes, in an August 2016 article.
Clearly, more payment options are ideal. But, as the owner of a small business with limited funds, you will need to focus on the options that capture the most customers and give your bottom line the biggest boost—and that means accepting credit and debit cards. According to Federal Reserve data released in 2015, 70 percent of consumers have at least one credit card, and credit is the preferred method of purchasing across the United States.
Lindsay Konsko, contributor for NerdWallet.com, explains in a July 2014 article how accepting credit cards can not only help you capture more customers but also increase revenue and even convenience for both parties involved. "The consumer likes the convenience of credit over cash," she writes. "For the business owner, there's a lot of software that ties directly into your merchant account that makes things like accounting, inventory management and other metrics much easier to follow."
Mobile payment services
Mobile wallets, such as Apple Pay, Android Pay and Samsung Pay, store credit card information in a mobile app or smartphone chip rather than on a plastic card. These are convenient because even more people carry smartphones than cash or cards, though they require vendors to invest in near-field communication (NFC) devices. According to Statista.com, 64 percent of Americans made a mobile payment in the last year. However, few use mobile wallets regularly and many believe it is still more convenient to pay with cards. This means you shouldn't be in a hurry to adopt the technology but may want to keep an eye out for it in the future.
On the other hand, you may want to consider adopting Square, one of the most popular mobile payment services among small businesses. Square makes it easy to process credit cards with relatively few startup costs and comes with free point-of-sale software that automatically helps you track and manage your transactions. "From setup to equipment and software, Square offers one of the quickest ways to accept credit cards on mobile devices," explains Sara Angeles in a January 2017 article for Business News Daily.
Online payment options
If your business' transactions take place online or partially online, you will likely want to offer customers the ability to pay via PayPal in addition to allowing credit and debit card payment methods. "PayPal provides an all-in-one online payment solution that does not require a merchant account," writes Susan Ward, co-owner of Cypress Technologies, in a November 2016 article for TheBalance.com. "The PayPal option is an ideal payment solution for a business on a low budget that needs to get started with eCommerce quickly and easily."
When setting up your business, you will find there are dozens of payment options you can offer customers, some more cost-prohibitive than others. As a small business owner, you should focus on offering credit and debit card payment options first and then explore other possibilities depending on the nature of your business (physical, online or both) and shifting consumer trends.
To learn more about our payment services, contact your local branch manager.